MALLINCAM XTREME COLOR VIDEO CCD CAMERA IS HANDCRAFTED IN NORTH AMERICA WITH THE FINEST COMPONENTS FROM
THE BEST SUPPLIERS FROM AROUND THE WORLD.
MallinCam Have Been the World First
LIVE COLOR Video CCD Camera for Astronomical Work
with Extended Shutter and Mild Cooled CCD Sensor
Fully loaded with Features not Available on
Any Other Brands in its Price Class.
Pro-Com Electronics Has Been in Business of Astronomical Video CCD Cameras Since 1985, The Longest and Most Experienced in the Industry
AVAILABLE IN COLOR OR BLACK AND WHITE (MONOCHROME)
THE HAND CRAFTED MALLINCAM XTREME COLOR ASTRONOMICAL VIDEO CCD CAMERAS HAS THE NEW FOURTH GENERATION HYPER CIRCUIT
ALLOWING THE USER A CHOICE OF A VARIABLE SHUTTER FROM 3
SECONDS TO 100 MINUTES - ALL WITH AUTOMATIC REFRESH! THE MENU OF THE NEW MALLINCAM XTREME CAN BE FULLY CONTROLLED FROM A PC USING A PC CONTROL CABLE AND MALLINCAM CONTROL
SOFTWARE. EXPOSURE TIME CAN ALSO BE FULLY CONTROLLED VIA THE
SOFTWARE. PRESET EXPOSURE TIMES OF 7, 14, 28 AND 56 SECONDS CAN BE SELECTED (LIKE THE MALLINCAM HYPER PLUS), OR CUSTOM EXPOSURE TIMES CAN BE CHOSEN FROM 3 SECONDS UP TO 100 MINUTES. THERE IS A CCD MODE FOR THOSE WHO WANT TO EXPERIMENT WITH ASTRO-IMAGING. ALTHOUGH THE MALLINCAM IS DESIGNED PRIMARILY AS
A LIVE OBSERVING CAMERA, IT CAN TAKE NICE IMAGES WHEN ALL OF THE CCD IMAGING TECHNIQUES ARE UTILIZED (SUCH AS DARK FRAME
SUBTRACTION, IMAGE CALIBRATION, ETC.) THE SOFTWARE CONTAINS A VIDEO CONTROL INTERFACE THAT WORKS IN
CONJUNCTION WITH THE USER SUPPLIED CAPTURE DEVICE. THE
AVAILABLE VIDEO CONTROL OPTIONS IN THE SOFTWARE ARE LIMITED BY
THOSE SUPPORTED BY THE CAPTURE DEVICE. OPTIONS INCLUDE
BRIGHTNESS, CONTRAST, GAIN, GAMMA, HUE, SATURATION, SHARPNESS AND WHITE BALANCE.
SINCE PC CONTROL IS THROUGH THE RS-232 AUXILIARY PORT ON THE
MALLINCAM, OVER 300' OF CABLE CAN BE USED FOR REMOTE OPERATION. THIS IS FAR SUPERIOR TO THE 15' LIMITED RANGE PROVIDED BY USB SUPPORTED CAMERAS. WHEN PC CONTROL IS NOT UTILIZED, (FOR EXAMPLE WHEN OUT IN THE
FIELD AT A STARPARTY), THE OPTIONAL WIRELESS EXPOSURE CONTROL
MODULE CAN BE UTILIZED WITH THE FULLY INTEGRATED ON-SCREEN
MENU. FOR THOSE WANTING TO EASILY ADJUST THE MENU IN THE FIELD
INSTEAD OF HAVING TO MANIPULATE THE MENU USING THE FIVE ON-
CAMERA MENU BUTTONS, AN OPTIONAL WIRED MENU KEYPAD IS
AVAILABLE.
THE WIRELESS EXPOSURE CONTROLLER IS FCC APPROVED. ALTHOUGH
APPROVAL RANGE IS LIMITED TO 265 FEET (80 METERS), IT HAS BEEN
TESTED AT 500 FEET IN THE OPEN. SINCE THE WIRELESS EXPOSURE
CONTROLLER WORKS ON RF RADIO WAVES, ITS SIGNAL IS ABLE TO
PENETRATE WALLS, UNLIKE IR CONTROLLERS. TO GUARANTEE
INTERFERENCE FREE OPERATION WITH OTHER MALLINCAM USERS IN THE FIELD, 100 CHANNELS ARE SELECTABLE. BOTH THE TRANSMITTER AND RECEIVER HAVE LARGE NUMERIC DISPLAYS MAKING IT EASY TO SET AND MONITOR THE EXPOSURES.
THE WIRELESS EXPOSURE CONTROLLER HAS A BULB SETTING MAKING IT POSSIBLE TO SET EXPOSURES FROM 3 SECONDS TO 99 HOURS, 59 MINUTES AND 59 SECONDS. THE PELTIER COOLER HAS BEEN ADJUSTED TO HELP MINIMIZE WARM PIXEL FORMATION DURING THE LONGER EXPOSURES. A NEW DUAL HEAT DISSIPATER (HDX2) HAS BEEN
DEVELOPED AND IT IS RECOMMENDED FOR USE ON THE XTREME DUE TO THE ADDITIONAL HEAT GENERATED BY THE CCD SENSOR DURING EXTENDED LONG EXPOSURES.
ALONG WITH THE HDX2, THE USE OF AN OPTICAL WINDOW, MFR-3 FOCAL
REDUCER OR MFR-5 FOCAL REDUCER IS RECOMMENDED. THESE UNITS
HELP ISLOLATE THE COOLED CCD SENSOR FROM MOISTURE IN THE AIR
AND LESSEN THE CHANCE FOR CONDENSATION ISSUES. WHEN LUNAR,
PLANETARY AND SOLAR OBSERVING IS BEING DONE, IT IS NOT NECESSARY TO HAVE ONE OF THE ABOVE OPTICAL ELEMENTS ATTACHED TO THE XTREME AS THE PELTIER COOLER IS SET TO THE LOWEST LEVEL OF NOISE DETECTION.
THE ULTIMATE LIVE ASTRONOMICAL COLOR VIDEO CCD CAMERA FOR HAS ARRIVED!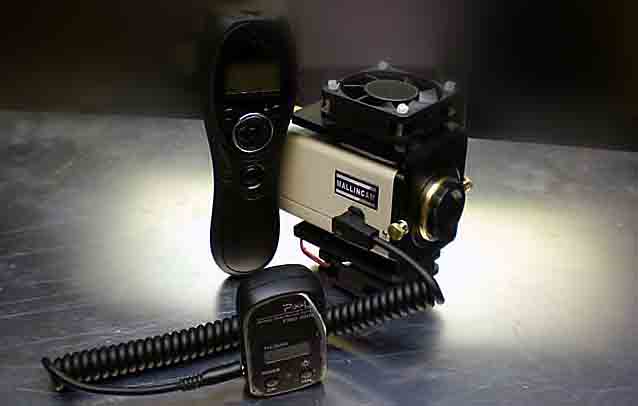 PICTURE OF CAMERA ABOVE SHOWN WITH OPTIONAL HDX2 HEAT DISSIPATOR, OPTIONAL FAN KIT, OPTIONAL WIRELESS EXPOSURE CONTROL.
KEY FEATURES INCLUDE:
- NEW Computerized Adjustable Mild Peltier Cooler (Thermoelectric cooler TEC)
- Hand Picked Class 1 CCD SENSOR (Grade A).
(Class 0 CCD Sensor available as an option - when available, $139.95 Extra)
(EXview HAD CCD Sensor with greater sensitivity available as option - when
available, $109.95 Extra)
- RS 232 Interface offering complete PC camera control using the
Control Cable and FREE MallinCam Control Software. A Serial Port is needed on
the PC, and if one is not available, a USB to Serial Adapter can be utilized.
- Full Shutter Speed Adjustment including OFF, 1/100, 1/120, 1/180, 1/250, 1/350,
1/500, 1/750, 1/1,000, 1/1,500, ½,000, 1/3,000, ¼,000, 1/6,000, 1/8,000, and 1/12,000
second making it possible for Lunar, Planetary and Solar (with the proper USER
supplied H-Alpha or White Light Filters). There is no need to use an aperture
mask to reduce the telescope's light gathering ability.
- Long Exposure Modes including 2X, 4X, 6X, 8X, 12X, 16X, 24X, 32X, 48X, 64X,
96X, and 128X or 1/32th of a second to 2.1 seconds
- NEW Hyper Mode with 3.3 Second to 100 Minute Exposure Times – all with Full Automatic Refresh!
- On Board Title Generator that allows for the placement of the name of the
object being viewed on the monitor. This is excellent for group viewings at
museums, planetariums, educational facilities and star parties or while
broadcasting over the Night Skies Network.
- Programmable Back Light Compensation Mode (BLC)
- FULL AGC Adjustment (GAIN) in Auto Mode, Manual Mode (for Deep Sky
targets) and OFF (for Deep Sky targets, and Lunar, Planetary, and Solar
observing)
- Full White Balance Control (W/B). Chose between Fully Automatic White
Balance Control (AWC), Auto Trace White Balance Control (ATW), or Manual
White Balance Control including presets for 5600K, 3200K (Infrared) or User
Defined Blue and Red Color.
Other Included Features:
- Two Fully Independent Video Outputs - High Resolution S-VHS and 75 Ohm
Composite (Both can be used simultaneously!)
- Four Programmable Mask Functions – allow for the creation of Electronic
Cross Hairs or other Manual Guiding Functions
- Positive and Negative Image Selection
- Horizontal Image Inversion (mirror effect)
- Vertical Image Inversion (mirror effect)
- Freeze Image Function
- Sensitivity Priority Function
- Gamma Selection (0.45 or 1.00)
- APC Function (Advanced Pixel Control to eliminate all stars artifacts)
- High Light Adjust Function (Electronic Coronagraph and Electronic Stellar
Coronagraph)
- Color Bar Generator
- Full Digital Zoom (Up to 2X in 16 steps)
Comes Complete with the Following:
1- MALLINCAM XTREME COLOR Camera (with Class 1 video CCD sensor)
1- Regulated Power Supply 120 volts to 12 Volts D/C Adapter
(PAL export version comes with 220 Volts to 12 Volts D/C Adapter
1- 25' (8 Meters) High Grade Dual Shielded Power/Composite Video Cable
Combination
1- High Precision 1.25" Eyepiece Adapter / Heat Transfer Unit Custom Made for
the MallinCam
1- BNC Male to RCA Female Adapter
11.50 ounces (326 grams)
AVAILABLE IN COLOR OR BLACK AND WHITE (MONOCHROME)

Class 0 CCD Sensor ICX418AKL-A+ when available $139.95 Extra
At time of ordering of a new camera.
Class 1 EXview HAD CCD SENSOR ICX428AKL-A when available. 109.95 Extras for class 1 sensor.
At time of ordering a new camera
EXview HAD sensor offers up to 40% more sensitivity ideal for small aperture or light polluted environment.
-MALLINCAM XTREME Deluxe:
COMES WITH ALL THE ABOVE AND A 25' RS 232 PC CABLE. Side socket is wired for Wireless Exposure Controller and comes with rear Yellow LED Peltier status indicator
1499.95 US FUNDS
-MallinCam X2 Deluxe:
Include the HDX2-F kit, and Copper cooling Peltier cold finger system for greater cooling. Comes with A 25' RS 232 PC CABLE, 1.25" adapter, Power supply, 25' Video/Power cable, Side socket is wired for Wireless Exposure Controller and comes with rear Yellow LED Peltier status indicator
1699.99
-MallinCam Xtreme/PC version:
No provision for wireless exposure controller, no rear Yellow LED Peltier status indicator.
Comes with A 25' RS 232 PC CABLE, 1.25" adapter, Power supply, 25' Video/Power cable,
1299.99
-MallinCam X2/PC version:
No provision for wireless exposure controller, no rear Yellow LED Peltier status indicator.
Include the HDX2-F kit, and Copper cooling Peltier cold finger system for greater cooling. Comes with A 25' RS 232 PC CABLE, 1.25" adapter, Power supply, 25' Video/Power cable,
1459.99
(Please note: The use of any other wireless exposure controller will void the warranty on the MallinCam camera. Our Wireless Exposure Controller are made to our specification by the company who produce them for us. The Receiver contains the necessary stable circuit to allow proper operation and long lasting of your MallinCam)