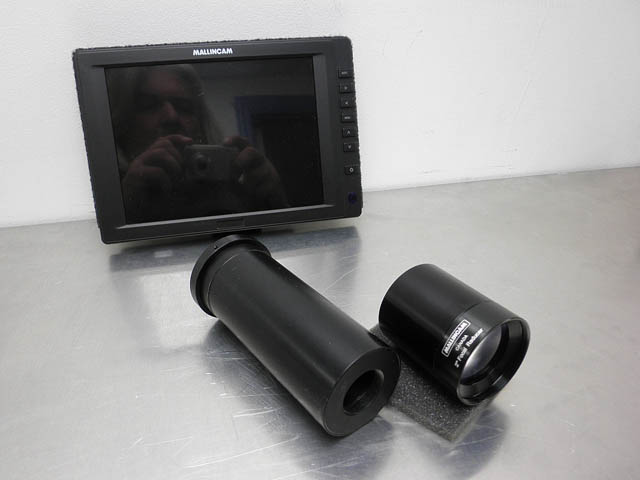 New!! Introducing the MALLINCAM Pro Dob II (Patent Pending)! ! Back in 2005, MallinCam developed a Dobsonian camera with FFM (Front Forward ccd Mount) called the MallinCam RPO Dob. We now introduce a whole new concept that addresses the real issues of using a Video CCD Camera on a Dob. MallinCam PRO DOB II is the answer.
Increase your aperture electronically by 3 times instantly in color or black and white (selectable). See details never observed before with an eyepiece. Increase you observing experience and share views with others live!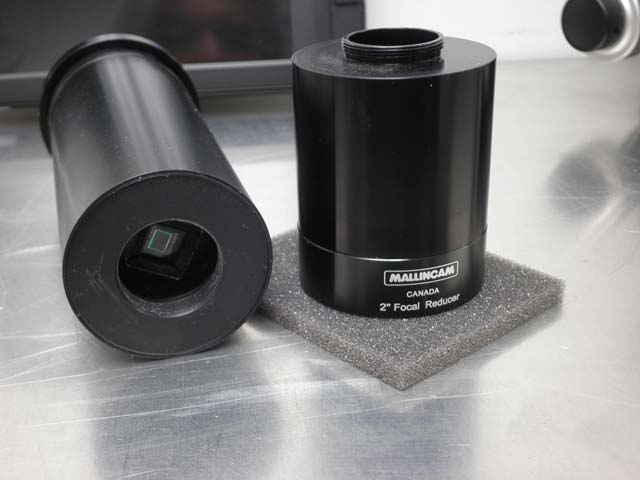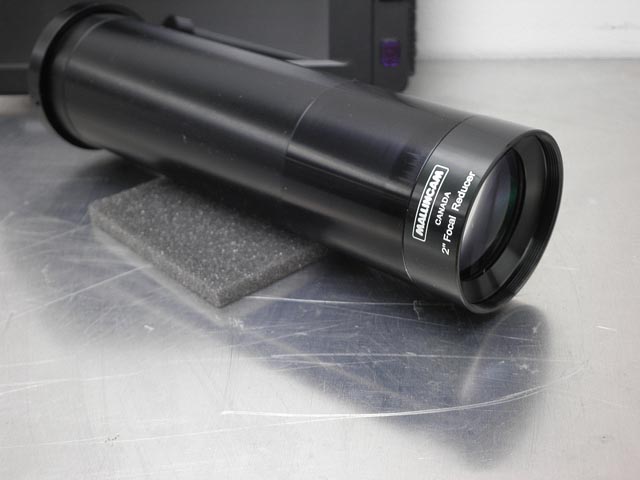 Also included with this entire kit is the MALLINCAM unique 2" C mount adapter that accept a 2" MALLINCAM 0.5X Focal reducer providing a much wider field of view and allowing larger Newtonian mirrors to catch large light cone found on all fast Newtonian Dobsonians and on larger mirrors with zero loss.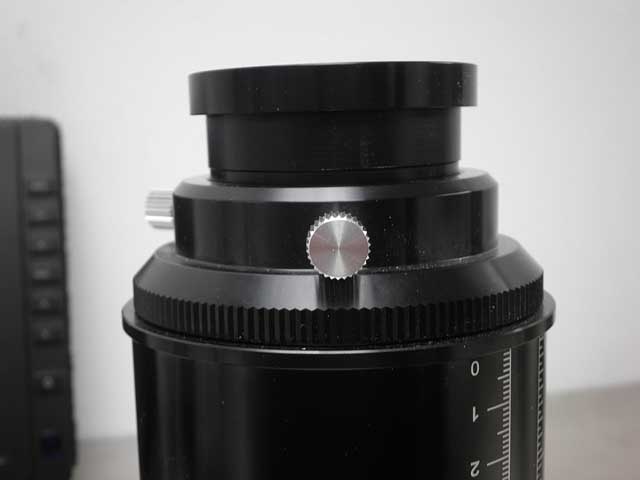 A unique "Focus StopGuard" (trademark) will prevent the entire camera to fall inside the focuser which can cause serious damages to secondary mirror and primary mirror. Focuser not included.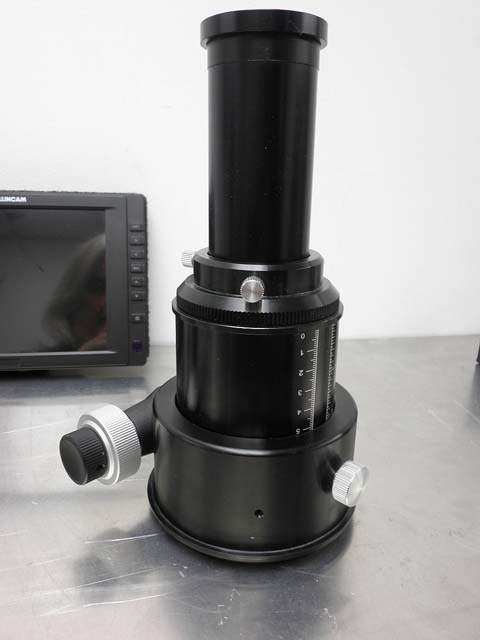 The New MALLINCAM PRO DOB II is a full 2" large body camera that can slide in and out to accommodate the precise focus point of the camera without modifying a existent Dobsonain mirror mount or cutting truss tubes to bring forward the camera focus point. Focuser not included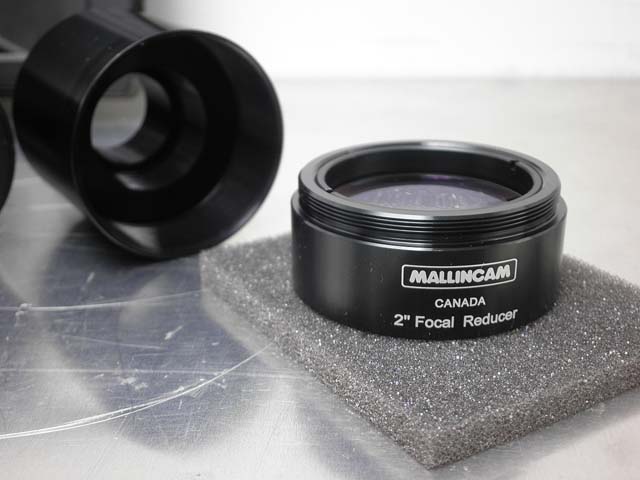 MALLINCAM 2" Focal reducer can be removed allowing a varieties of focal reducer to be attached through the C mount threads on the front of the camera.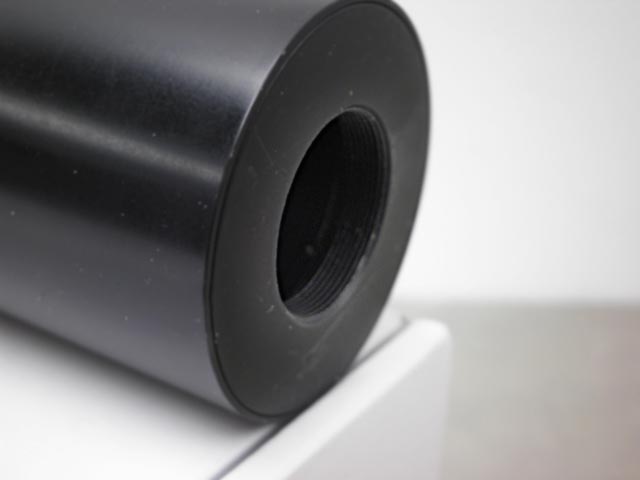 Custom design and made by MallinCam made of aircraft aluminum and black anodized for durability, this new concept was designed with a 1/4" thick front mounting plate allowing zero flexture in the system while maintaining perfect focus at all time.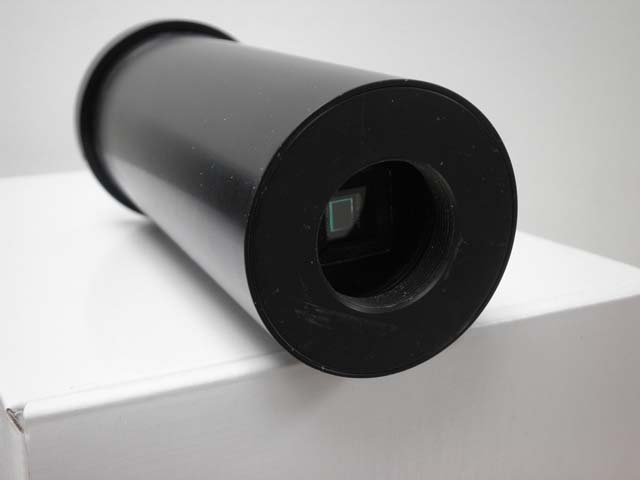 A Sony ICX672AKA EXview HAD II sensor is used to maximize image quality with the shortest exposure possible giving exposure sensitivity of 40% increase above any other sensors in its class.

Up to 17 seconds exposure is available with instant refresh and up to 5 times image stacking on the fly providing extended coadded image of 85 seconds exposure. Color or black and white selectable among many other features.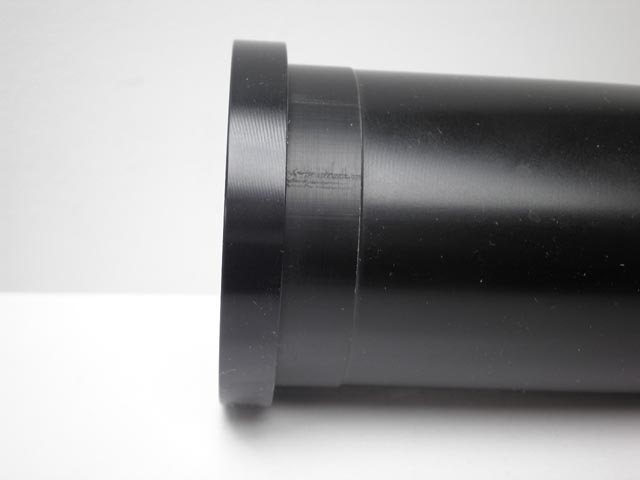 A unique "Focus StopGuard" (trademark) will prevent the entire camera to fall inside the focuser which can cause serious damages to secondary mirror and primary mirror as seen on poorly designed competition camera system.
The New MALLINCAM PRO DOB II includes a 2 meter long wired remote control unit including 12 volts input, video out, and RS 485 capable all in one cable reducing stress hanging from behind the camera.


Camera comes complete with a C mount 2" adapter (89.99), and 2" Large format focal reducer (79.99), complete wired remote control with 12 volts dc input, BNC output, and RS 485 ready, 12 volts car adapter. 349.99. With optional 8" monitor, 499.99 complete! In production!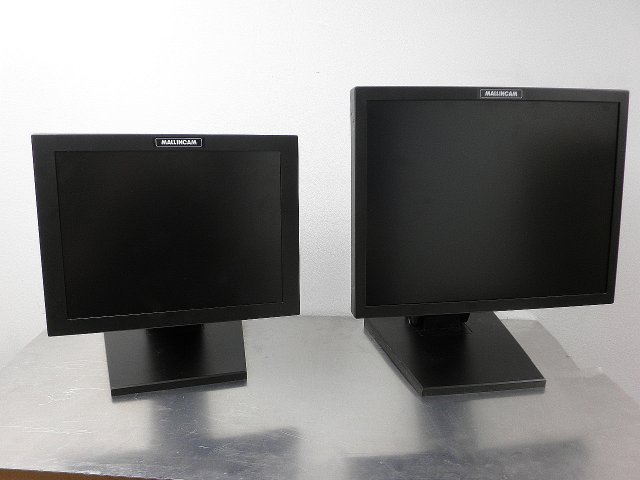 NEW!! MallinCam High resolution monitor allows the highest resolution possible from any astronomical video ccd camera source. These monitors rivals the best CRT type on the market today. These scientific industrial monitor features anti-glare screens, a properly fitted for 4:3 ration to accommodate MallinCam Video CCD cameras. Available in 12 inch and 15 inch size.
12" size is idea for in field use. 15" model is ideal for home or observatory use. Powered by 12 volts dc system, a 110 volts ac adapter is included with each monitor.
A wide variety of input allows connectivity from SVBS (composite), S-VIDEO, HDMI, and a input for computer display. Bypass output is through 3 BNC 75 Ohms output to further drive any other
device such as a DVR or link through a capture device.

All external cabinet are made of 100% steel for durability and long life. The LED monitor offer
crisp vivid colors and black and white images rivaled by broadcast type monitors.
Fully vented, and shielded to keep noise to a minimum in the field of at home in a observatory.

All inputs are selectable through a comprehensive menu via a remote keypad or direct
through push buttons on top of the monitor
The included stand can be adjust to the observer position by two hinges

allowing height and angle to be selected. The Monitor features selectable Noise reduction feature,

Contrast, Brightness, Sharpness, Hue, Saturation, ZOOM, freeze, Picture in Picture for
scientific comparison among a whole slew of advanced features.