MallinCam Hyper PLUS Color
MallinCam Hyper PLUS B/W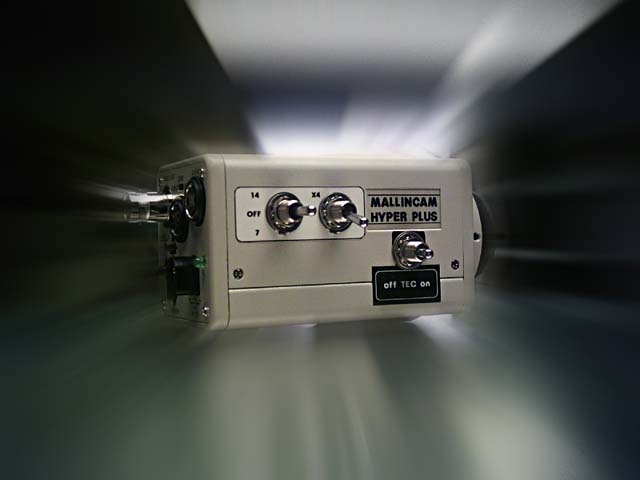 MCHP COLOR 1199.95 US Funds.
MCHP B/W 1099.95 US Funds
ALL CAMERAS ARE HANDCRAFTED IN CANADA
USING THE FINEST COMPONENTS FROM
THE BEST SUPPLIERS AROUND THE WORLD.
MallinCam Have Been the World First
COLOR Video CCD Camera for Astronomical Work
with Extended Shutter and Mild Cooled Ccd Sensor
Fully loaded with Features not Available on
Any Other Brand in its Price Class
Pro-Com Electronics Has Been
in Business of Astronomical Video CCD Cameras Since 1985,
The Longest and Most Experienced in the Industry.

Comes Complete with the Following:
1- Hyper Plus Camera (with class 1 video ccd sensor)
1- Regulated Power Supply 120 volts to 12 Volts d/c Adapter
(PAL export version comes with 220 Volts to 12 Volts d/c Adapter
1- 25' (8 Meters) High Grade Dual Shielded Video / Power Cable Combination
1- High Precision 1.25" Eyepiece Adapter / Heat Transfer
Unit Custom Made for the MallinCam
1- BNC Male to RCA Female Adapter
1- Carrying Case (USA Customers Only)
1- Manual
1- Quick Start Sheet


THE HANDCRAFTED MALLINCAM HYPER PLUS ASTRONOMICAL VIDEO CCD CAMERAS HAS THE HYPER CIRCUIT ALLOWING THE USER A CHOICE OF 7, 14, 28 and 56 SECONDS INTEGRATION ALL AUTOMATIC REFRESH! NO NEED TO PUSH A BUTTON TO OBTAIN A SINGLE IMAGE! THE NEW MALLINCAM HAS A FULLY INTEGRATED ON SCREEN MENU SIMPLIFYING OPERATION MAKING IT THE MOST RELIABLE. THE MALLINCAM HYPER PLUS COLOR DOES IT ALL WITH AUTOMATIC REFRESH! THE ULTIMATE LIVE VIDEO CCD CAMERA FOR ASTRONOMY IS HERE NOW.


KEY FEATURES:

- Mild Peltier Cooled (Thermoelectric cooler TEC)

- Hand Picked Class 1 CCD SENSOR (grade A)

- Full Shutter Speed Ranging from OFF, 1/100, 1/120, 1/180, 1/250, 1/350, 1/500, 1/750, 1/1000, 1/1500, 1/2000, 1/3000, 1/4000, 1/6000, 1/8000, 1/12000 sec. or Choices of Fully Variable Adjustment Making it Possible to View Planets, Lunar, and Solar with Proper (user supplied) Filters of H Alpha or White Light Filter. No Need to Add Any Devices to Reduce Light Gathering.


- Full Integration Mode of 2X, 4X, 6X, 8X, 12X, 16X (1/4 sec. exposure) 24X, 32X (1/2 sec. exposure) 48X, 64X (full one sec. integration) 96X, 128X (full 2.1 seconds integration) Hyper Mode of 7, 14, 28, 56 Seconds Exposure Mode with Full Automatic Refresh


- On Board Title Generator Allowing Writing of Object Being Viewed. Excellent for Group Viewing at Museums, Planetarium, Educational Facilities, Universities, Colleges, Schools and Star Parties.

- Programmable Back Light Compensation Mode (BLC)

- FULL AGC Adjustment in Auto Mode, Manual Mode (deep sky targets) and OFF (Deep Sky targets, lunar, planetary, solar mode)

- Full White Balance Control (W/B). Your Choice of Fully Automatic White Balance Control, Auto Trace White Balance Control, or Manual White Balance Control Including presets for 5600K, 3200K (Infrared) or User Defined Blue and Red Color.

Other Included Features:

- High Resolution S-VHS Output
- 75 Ohm Composite Output
- Four Programmable Mask Function Providing
Electronic Cross Hair or other Functions
- Positive and Negative Image Selection
- Horizontal Image Inversion (mirror effect)
- Vertical Image Inversion (mirror effect)
- Freeze Image Function
- Sensitivity Priority Function
- Gamma Selection (0.45 /1.00)
- APC Function (Advanced Pixel Control,
eliminate all stars artifacts)
- High Light Adjust Function (Electronic Coronagraph
and Electronic Stellar Coronagraph)
- Color Bar Generator
- Full Zoom up to 2X in 16 steps

________________________________________________________

What set apart the MallinCam Video CCD Cameras from others?

It takes a lot more than just a page full of specifications.
Quality, Craftsmanship, Reliability, Service, Upgradable, are all mandatory in a high grade astronomical video ccd camera.

Here's a few points on the MallinCam Astronomical Video CCD Cameras not found on any others in the industry:

The Highest Gain Available.
The best way to improve the signal to noise ratio is to improve the signal. The signal comes from a high gain
circuitry coupled with a High Quantum Efficiency ccd sensor of class 1 which significantly decrease the exposure
time with a higher sensitivity across the entire visible spectrum.

MallinCam Unique "Selective Cooling" System (tm) on the MallinCam HYPER offers:

Cooling = Less Dark Current

Cooling = Less Electronic Noise

Cooling = Higher Signal to Noise Ratio

Cooling = Faster Image Acquisition

Cooling = More Sensitivity

Cooling = Better Live Quality Images

Never tried a MallinCam? You'll never go back to any other!

**************************************

The MallinCam HYPER PLUS

New MallinCam *HYPER* PLUS is a Full Featured Advanced Astronomical Observational Video CCD Camera Featuring a Peltier Cooler, Extended Shutter of 7, 14, 28 and 56 seconds Integration, New Gray Scale Bar Generator, on MallinCam HYPER PLUS COLOR, a Color Bar Generator, 16 Mhz CPU, 32 meg of Memories, 14 Bits Video Processor, APC Feature Allows Full Picture Enhancement of Vertical and Horizontal Pixels, Freeze Image Feature, Gamma Selection Feature, High Light Feature (Electronic Coronagraph and Electronic Stellar Coronagraph) for Unsurpassed Lunar Impact Research, Lunar Studies, Solar Observing (with proper solar filter), Planetary Images and a Whole lot more!! New Custom Designed High Precision 1.25" adapter, Class 1 CCD Sensor, Grade 1 Components Throughout, Unique Custom Manufactured High Gain Circuitry Not Found on Any Competitor Video CCD Camera. All MallinCam are Hand Crafted One at a Time Making MallinCam the Most High Performance Available Anywhere in it's Class and the Most Desired Astronomical Observational Video CCD System